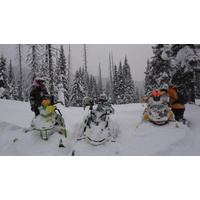 The British Columbia Snowmobile Federation is worried it will lose more access to trails unless it signs up more members.
The federation's media director, Trish Drinkle, said her organization estimates only 17 per cent of the province's estimated 85,000 snowmobilers join local clubs.
"Most clubs see four per cent, five per cent involvement in their towns and it's very, very discouraging," Drinkle said.
She said club membership goes beyond simply having a social group, it's a way to amplify the voice of snowmobilers when the province is making decisions about land access.
"It gives us more presence," she said. "It's big. Numbers really matter."
The B.C. government has closed off more than one million hectares of land from snowmobilers in an effort to help restore threatened caribou herds. (B.C. Ministry of Forests, Lands and Natural Resources)
Prince George Snowmobile Club president Meghan Bosecker said it was "frustrating" to see membership in her region stagnating.
Bosecker said there are roughly 5,000 registered snowmobiles in the Prince George area, but just 170 club members.
"Volunteers work really, really hard," she said. "Grooming, keeping trails open, things like that."
Bosecker and Drinkle said clubs have been losing land access in recent years as the province sets aside space for projects such as caribou recovery.
"They look at it proportionally," Drinkle said. "There's not many members here, it doesn't really matter if we close this area."
Closures for caribou protection
All 52 caribou herds in B.C. have been identified as needing special management actions because of declining populations. (Getty Images)
Since 2009, more than one million hectares of mountain caribou habitat have been closed to snowmobiles and other winter vehicles as part of efforts to restore endangered herds. The species is considered at risk of extinction, with dramatic declines in population.
According to researchers, noise from snowmobiles can cause caribou to retreat into areas where food is not as plentiful and the risk of avalanches or predators is higher, putting them at higher risk of dying.
An additional one million hectares of land in the province has also been closed to logging and other activities for caribou habitat.
Riders an 'easy target': club president
Bosecker said riders support protecting caribou, but she believes snowmobilers are an "easy target" and predicted without more members in clubs, trail access would continue to decline.
"Your club is the only voice you have to keep your riding areas open," she said.
"We have some of the most beautiful riding areas in the world, and to have that cut off ... would be such a detriment."
The Ministry of Forests, Lands, Natural Resource Operations and Rural Development said no new snowmobile runs had been closed since 2016, and clubs would be consulted prior to any future closures.
See full article here: http://www.cbc.ca/news/canada/british-columbia/bc-snowmobile-members-caribou-1.4483908
---