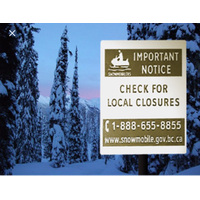 Snowmobile Closures
Under the Mountain Caribou Recovery Implementation Plan, scientists recommended over one million hectares across the mountain caribou range be closed to motorized winter recreation to facilitate recovery of caribou populations. Since 2009, government has closed areas to snowmobile use across the Mountain Caribou range in order to support population recovery. The maps below show the areas open to snowmobiling and areas closed under the Wildlife Act. These maps can be viewed and downloaded. Maps are georeferenced PDFs so they can be used in mobile applications to determine your location relative to boundaries, open riding areas and trails.
The closed areas have been amended with BC Reg 74/2011 effective April 27, 2011 and BC Reg 130/2016 effective July 1, 2016.
More information can be found at:
http://www.env.gov.bc.ca/fw/wildlife/snowmobile-closures/
Closures are also a common topic at our Club Meetings, if you have questions or concerns please attend a meeting or contact a board member for clarification.
---