Upcoming Events
All events are dependent on weather & snow conditions.
Avalanche Canada Backcountry Avalanche Workshop - January 08, 2019 -- 7 PM @ Northwood Plaza **Free Admission**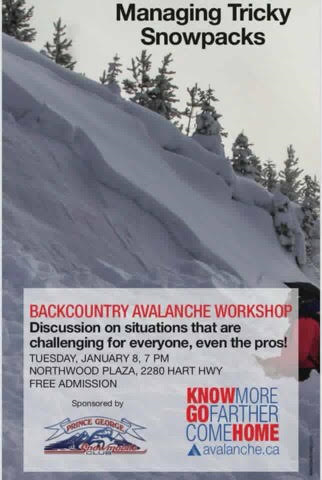 January General Meeting- January 09, 2019 --7 PM @ PGSC Clubhouse (12000 Scott Road)
Torpy Family Fun Day - January 13, 2019 -- 11 AM @ Torpy
Join us for a day full of fun for the entire family. Come have a burger at the concession, toboggan on the hill, warm up in the cabin and visit with our local dealers!
February General Meeting - February 06, 2019 --7 PM @ PGSC Clubhouse (1200 Scott Road)
PGSC  Jack Kinsey Memorial Snowarama Poker Ride  &  Second Annual Sled Raffle - February 24 2019 @ PGSC Clubhouse
Poker Ride begins at 11 am
Sled will be raffled at 4 PM (Do not have to be present to win)
More details to come!
March General Meeting - March 06, 2019 -- 7PM @ PGSC Clubhouse (12000 Scott Road)
Torpy Family Day #2 - Early March (Exact Date to be determined) 
April Annual General Meeting - April 03, 2019 -- 7 PM @ PGSC Clubhouse (12000 Scott Road)
January General Meeting
The Prince George Snowmobile Club would like to invite members, non-members and potential members to come to the Clubhouse (12000 Scott Road) on January 09, 2019 at 7PM to discuss our plans for the 2019 season!
Cariboo Closures
Snowmobile Closures
Under the Mountain Caribou Recovery Implementation Plan, scientists recommended over one million hectares across the mountain caribou range be closed to motorized winter recreation to facilitate recovery of caribou populations. Since 2009, government has closed areas to snowmobile use across the Mountain Caribou range in order to support population recovery. The maps below show the areas open to snowmobiling and areas closed under the Wildlife Act. These maps can be viewed and downloaded. Maps are georeferenced PDFs so they can be used in mobile applications to determine your location relative to boundaries, open riding areas and trails.
For more information: http://www.env.gov.bc.ca/fw/wildlife/snowmobile-closures/
Off-Road Registration
Off-road Vehicle Registration Now Mandatory
ORV requires riders to place their registration decals on their sleds, have their registration and insurance on them while riding, as well as have Photo ID to verify their identity. Photocopies or photos on a cell phone are not sufficient.  Conservation Officers present at the 2018 BCSF Congress Meeting reminded us that not being able to prove your identity on the trail or mountain is an arrestable offense.
Please be prepared!!
For more information visit BCSF on Facebook