Upcoming Events
All events are dependent on weather & snow conditions.
**Family Fishing Derby at Frost Lake has been canceled due to ice conditions**
February 22, 2018 - FREE Avalanche Seminar
Avalanche Canada in coordination with Rec Sites and Trails BC is excited to announce an Avalanche Outreach Seminar at Fore Bistro on the evening of February 22nd in Prince George. This event is open to the public and we are seeking to educate all backcountry users, from snowshoers to cross country skiers and snowmobilers. The facts are undeniable: over the past 10 years, two recreational user groups have accounted for 70% of all avalanche fatalities in Canada. Snowmobiliers represented 42% of that 70%. Take this opportunity as there is always more to learn. More details to come.  
February 25th, 2015 - Snow-A-Rama & Poker Ride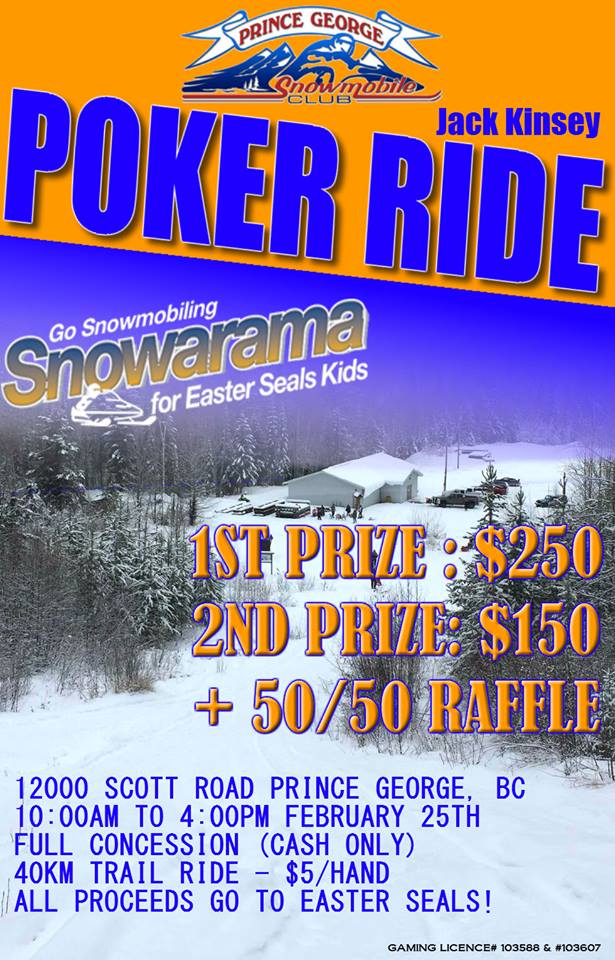 Snowarama is a family-oriented fundraising event in which snowmobilers organize hill climbs, poker runs, rallies, or scavenger hunts in support of Easter Seal programs. The B.C. Snowmobile Federation and its member clubs have endorsed Easter Seals as its charity of choice and Snowarama as their official charitable fundraising event. In BC, snowmobile clubs in more than 35 communities host Snowaramas between January and March every year. Snowmobilers in B.C. have raised over $3.8 million for children with disabilities since the inception of Snowarama in B.C. in 1978. Despite the lack of snow in some highly-populated regions of the province, BC snowmobilers raise the highest Snowarama funds per capita in Canada.
First Rider out at 10AM and last rider in at 4PM.
Lots of door prizes available!  
1st Place: $250
2nd Place: $150
**Thank you Bill Harvie & Henning Hansen for taking initiative and volunteering your time & effort to clear trail for our ride this weekend.**
March 07th,  2018 - General Meeting
Meetings are the first

Wednesday

of each month from October through April. This meeting is at the clubhouse on Scott Road (Directions HERE)
February General Meeting
The Prince George Snowmobile Club would like to invite members, non-members and potential members to come to the Clubhouse (1200 Scott Road) March 07, 2018 for our monthly General Meeting.
An overview from the February meeting can be found under the "News" Section.
Cariboo Closures 2017/2018
Snowmobile Closures
Under the Mountain Caribou Recovery Implementation Plan, scientists recommended over one million hectares across the mountain caribou range be closed to motorized winter recreation to facilitate recovery of caribou populations. Since 2009, government has closed areas to snowmobile use across the Mountain Caribou range in order to support population recovery. The maps below show the areas open to snowmobiling and areas closed under the Wildlife Act. These maps can be viewed and downloaded. Maps are georeferenced PDFs so they can be used in mobile applications to determine your location relative to boundaries, open riding areas and trails.
For more information: http://www.env.gov.bc.ca/fw/wildlife/snowmobile-closures/
Off-Road Registration
Off-road Vehicle Registration Now Mandatory
ORV registration with number plate display is mandatory on Crown land, including resource roads. An off-road vehicle is designed for off-highway use and does not meet safety standards for on-highway use. In the event that you want to operate your off-road vehicle on a highway, you will need to register, get a plate, a license and insurance. 
For more information: http://www.icbc.com/vehicle-registration/specialty-vehicles/Pages/Off-road-vehicles.aspx